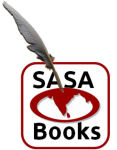 SASA Books — A Project of the South Asian Studies Association
[box size="large" style="rounded"]
About SASA Books
Legacy publishers, particularly those who are keenly interested in preserving a scholarly reputation, function as academic "gatekeepers." They certify quality. However, they are always concerned about marketability unless they receive a subvention for publishing a given title. A great many titles of scholarly merit go unpublished. Lifetimes of research pass unnoticed. SASA Books works as a gatekeeper within this niche of quality work with limited mass market potential. We operate as a 100% volunteer organization. Services normally performed by a publisher are assumed by the author. We do not offer contracts for proposed projects, provide advances or consider incomplete manuscripts. Only projects related to South Asian Studies that are in or nearly in penultimate form are considered, i.e., we do not provide editorial services. Our primary concern is strengthening the reputation of our imprint and thereby our value to our authors.
Before acceptance, all manuscripts must pass our extensive double-blind peer review process. Once a publishing contract has been offered we expect the author to work with us to bring the manuscript out as rapidly as possible. We reserve the right to cancel a contract should the project drag on for more than six months beyond signing.
Cathleen Cummings, editor
Associate Professor of Art History
University of Alabama, Birmingham
Chandrika Kaul, editor
Lecturer in Modern History
University of St. Andrews
Our email address is
[email protected]
.
[/box]
Guidelines
[box size="large" style="rounded"]
Both American and British English are acceptable — just be consistent, except in the case of edited volumes in which case the consistency rule applies to individual contributors, not the volume overall.
[/box]
[box size="large" style="rounded"]
Endnotes are preferred over footnotes. Either the current MLA or Chicago Manual of Style formatting are acceptable. Consistency is key.
[/box]
[box size="large" style="rounded"]
Font selection should be serif and glyph rich so as to accommodate transliteration from South Asian scripts. The best choice, available as a free download, is TeXGyrePagella. For Devanāgarī type faces, visit this site for suggestions. Check with the editors concerning your font choice because different sources implement with critical but seemingly minor differences.
[/box]
[box size="large" style="rounded"]
At the present time we publish soft cover only. Grayscale images present no problem. If even a single color image (beyond the front and back covers) is used the final price of a manuscript is approximately doubled.
[/box]
[box size="large" style="rounded"]
Initial submission may be in either the Microsoft Word or ODF format. The final product must be in the Word format.
[/box]