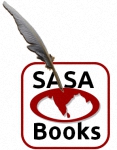 SASA Books — A Project of the South Asian Studies Association
To receive a 12% discount from the list price of any SASA Books title, please use discount code UGZ9SYXF at checkout.
New from SASA Books
Mike Youngblood's 2010 AIIS prize winning manuscript Cultivating Community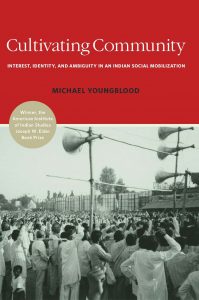 "This is political anthropology as it should be done. Bravo." – Ronald J. Herring, Professor of Government and International Professor of Agriculture and Rural Development, Cornell University
In Cultivating Community, anthropologist Michael Youngblood explores the creation of political meaning and the construction of collective identity in an agrarian social movement in western India. The book's core questions are fundamental to understanding mass movements anywhere: Where do movement ideologies come from and what makes them compelling? What motivates diverse groups of ordinary people to rise together in common cause? How can we make sense of individual participants in a movement when their participation sometimes appears irrational and against their own interests?
Cultivating Community explores these questions through an examination of the Shetkari Sanghatana, a massive anti-statist movement in India's Maharashtra state. The movement, which mobilizes participants from a broad cross-section of rural castes and classes, calls for the end of government intervention in agriculture and the restoration of a golden age of rural rule under a mythological demon king named Bali. In this rich ethnographic examination, Youngblood argues for a participant-centric view of the Shetkari Sanghatana, digging beneath the movement's loudest voices and it's most visible exploits to see how the movement is experienced and constructed by individual participants on the ground. Through vivid descriptions of the movement in settings that include activist training camps, strategy meetings, massive protest rallies, religious festivals, and day-to-day village life, the author shows how participants and leaders together deploy a pool of shared but highly ambiguous spiritual and political symbols in an ongoing competition to define what the movement stands for, whose interests it represents, and what the future should look like.
This award-winning book is based on extensive observations and interviews during two and a half years of field research with the Shetkari Sanghatana in 1996-1999. Its ambitious inquiry delves into the fields of history, political science, economics, organizational studies, cultural geography, folklore, and religion, as well as cultural anthropology. Cultivating Community will not only enrich insight into rural life in India during a period of profound economic, political and cultural change, it will also give readers new ways to think about social mobilizations and protest movements around the world.
For price and ordering information please click here.
Recent publications of SASA Board members:
Vandana Asthana. Water Security in India.  Bloomsbury Academic.
David Blundell.   "Struggling Identities: Vanniyaletto (Vedda) of Sri Lanka." Biological and Cultural Diversity of Man and the Development Consequence in Asia. Ranjana Ray and S. B. Chakrabarti (Indian Statistical Institute, Anthropological Survey of India), eds. Kolkata: Asiatic Society.
Bradley Clough. Early Indian and Theravada Buddhism: Soteriological Controversy and Diversity. Cambria Press.
Cathleen Cummings. Decoding a Hindu Temple.  SASA Books.
Carol Davis.  "Towards An Engaged Stage: Nepali Theatre in Uncertain Times" in Mapping South Asia Through Contemporary Theatre. Ed. Ashis Sengupta. Palgrave Macmillan.
Chandrika Kaul. Communications, Media and the Imperial Experience.  Palgrave Macmillan.
Joe Pellegrino, editor.  Open Pages in South Asian Studies.  SASA Books.
Nalini Rao.  Sindhu-Sarasvati Civilization: New Perspectives. D.K. Printworld.
Deepak Shimkhada.  Arjun Confronts Bullies at School.  Create Space.[/box]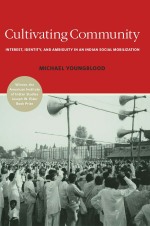 Cultivating Community: Interest, Identity, and Ambiguity in an Indian Social Mobilization
Michael Youngblood
"Cultivating Community should be required reading for those who claim to speak for and about social movements—or politics in rural India generally for that matter. The analysis is subtle, wonderfully sophisticated and grounded in close ethnography even as Youngblood reaches out judiciously to grand theory. We learn much about not just mass mobilization and movements as social phenomena, but how to understand the dialectic of identity and interest, and leadership and symbol, in the formation of a politically consequential collective identity. This is political anthropology as it should be done. Bravo."
Ronald J. Herring , Professor of Government and International Professor of Agriculture and Rural Development, Cornell University
"Critiquing the view that social movements are marked by shared identities and interests, Michael Youngblood's depiction of India's Shetkari Sanghatana elaborates a fascinating alternative that depicts this social movement as being dialogically constructed through multivocal symbols and shifting participant agendas. His engaging account offers valuable insights for students of Indian society and social movements more generally."
John Echeverri-Gent, Department of Politics, University of Virginia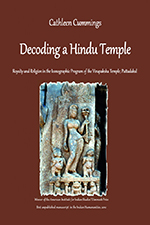 Decoding a Hindu Temple: Royalty and Religion in the Iconographic Program of the Virupaksha Temple, Pattadakal
Cathleen A. Cummings, University of Alabama at Birmingham
Winner of the American Institute for Indian Studies' Dimmock Prize Best unpublished manuscript in the Indian Humanities, 2010.
This is the definitive study of one of India's most important temples and a model for all future iconographic interpretations of Hindu monuments. It lays to rest the view that Hindu temples do not have coherent iconographic programs. Through an interdisciplinary approach, the author shows that the patrons of this temple not only carefully selected the deities to be portrayed on the exterior walls but grouped them ingeniously to carry transcending themes, both religious and historical.
Susan L. Huntington, Distinguished University Professor Emeritus, The Ohio State University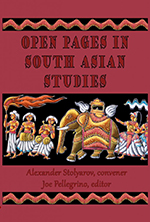 Open Pages in South Asian Studies
Joe Pellegrino, Georgia Southern University, and Alexandre Stolyarov, Russian State University for the Humanities
The articles in this edited volume were invited from among the presenters at the original "Open Pages in South Asian Studies" workshop, held at the Russian State University for the Humanities, Moscow, in 2011.
Members of this international group address the theme of gaps or lacunae in our knowledge and vision in South Asian Studies. In short, why does the current state of affairs exist? They explore the borders of the unknown, and offer studies which may help define proper directions for further research in the discipline. Representing "Classical" Indological studies, contemporary South Asian studies, and theoretical models for the future of the discipline, the South Asian, Russian, European, and American scholars represented here invigorate this panoramic view of an active field.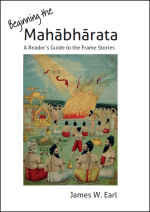 Beginning the Mahābhārata: A Reader's Guide to the Frame Stories
James W. Earl, University of Oregon
The Mahābhārata with its enormous size, its "complex layering of multiple voices," and lack of linear chronological structure is a daunting text for any reader.  James Earl's short guide to the "Frame Stories" offers perspective and insight that aids in navigating the "oceanic" narrative of the Mahābhārata….The author draws comparisons with Western literature while maintaining an acute sensitivity to the Mahābhārata's indigenous narrative structures and ethical undercurrents.
Veena Howard, Department of Religious Studies, University of Oregon, USA
The Mahābhārata, one of the World's great works of  literature, has not received the attention it deserves outside of its homeland and apart from the work of a relatively small number of academic specialists. It is more than welcome, therefore, that a scholar well known for his work on Beowulf should turn his hand to India's great epic….He delivers on his promise with a deft touch sensitive to the epic's poetic nuances and complex trajectories.
Adam Bowles, School of History, Philosophy, Religion and Classics, The University of Queensland, Australia
I wish I had had something like this to help me when I was an undergraduate….There is a great deal of original thinking behind it, but this is thoroughly digested and hidden behind a smooth, accessible presentational style.  It's a real achievement.
Dominik Wujastyk, Institut für Südasien-, Tibet- und Buddhismuskunde, Universität Wien, Austria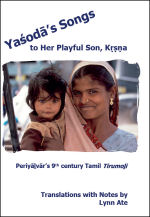 Yaśodā's songs to her playful son, Kṛṣṇa
Lynn Ate, Washington State University
The text is devoted to the compositions of one of the outstanding Indian religious poets who sang in the Tamil language.  Periyāḻvār was a devotee of a powerful branch of Hinduism, the Vaishnava bhakti movement.  He was the author of a very important text Tirumoli which influenced the later Vaishnava tradition in many respects. … The author touches upon many important issues of the poetry of Periyāḻavār (and bhakti poetry in general), they are presented honestly and correctly. … There is enough material in the text for a general reader to understand and to estimate the poetry of Periyāḻvār. … As to the translation itself, on the whole it is quite comprehensible and corresponds well  the style of Periyāḻvār. … A good contribution to studies of medieval Tamil poetry.
Alexander Dubyanskiy, Professor, Moscow State University, Russia
Yaśodā's Songs an elegant yet scholarly translation that makes accessible to the English-speaking world the Tamil works of a ninth-century poet-saint devoted to the Hindu God, Viṣṇu. To date it offers not only the best translation of Periyāḻvār's works but also provides a masterly interpretation drawing on both Tamil and Sanskrit sources to determine his religious and literary contribution and milieu. As such, it can serve as an introduction by way of case study to South Indian religions and even Hinduism for students and general readers. But it is also a book of mature, rich scholarship that academics will find extremely valuable.
Katherine Young, Professor Emerita, McGill University, Canada
Ate's translation of Periyalvar's Tirumoli, the same sensitivity is retained by her expert style.  Vātsalya bhakti, maternal love as devotion, as expressed by Periyāḻvār, is made clear by her sensitive translations of Tamil into English. Periyāḻvār, among the Vaishnavite Ālvārs of South India, holds an important place in Tamil devotional literature, and this shows in Ate's book. This book makes a rich contribution to the growing body of Tamil literature with the same fervor that the reader finds herself in the experience of […] "drowning in the love of god, being sunk in a divine flood, or diving and bathing in a pool of ecstatic joy."
Deepak Shimkhada, Professor, Claremont Graduate University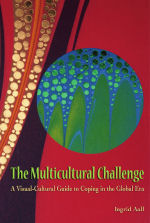 The Multicultural Challenge: A Visual-Cultural Guide to Coping in the Global Era
Ingrid Aall, California State University, Long Beach
Throughout the book, students are challenged to take a personal journey in visual and cultural literacy and to reflect on the shared responsibility of the future of our world. I encourage you to accept Dr. Ingrid Aall's challenge.
F. King Alexander, President, California State University Long Beach
Across the planet, we note differences in how we deal with time from culture to culture; the religious priorities that guide peoples, their ethics, family structures, even their food, as memoir of the passage of time.  A huge subject?  You bet!  This volume is masterfully sculpted, very readable, extremely impressive.  It should be read by clergy, students of anthropology and archeology and all lovers of history.  It will enlighten all and I believe will sharpen the way the "expert" looks at his/her chosen subject with new eyes.
Dr. Sanford M. Shapero, former President/CEO,  City of Hope National Medical Center and The Arnold Beckman Research Institute