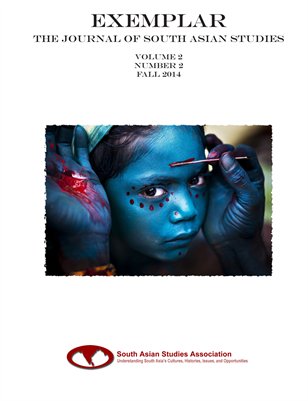 Exemplar: The Journal Of South Asian Studies is a "crossover" journal, appealing to academics as well as other sophisticated readers with a keen interest in South Asia. Exemplar emphasizes cultural understanding, mated to contemporary economic and political concerns, with a strong bias toward issues of globalization. Exemplar eschews jargon to appeal to academic and sophisticated non-academic audiences.
Toward these ends, Exemplar
encourages "visual" submissions which illustrate and enrich academic content;
features regular op-ed columns on topics of international relations, economic development, ethnic rituals and customs, photography, etc.
Exemplar: The Journal of South Asian Studies is a double-blind, peer-reviewed international journal published biannually by the South Asian Studies Association (SASA). Exemplar provides an intellectual platform for scholars of South Asia, invites original research papers from established as well as younger scholars in all the humanities and social sciences disciplines, and encourages interdisciplinary research. The journal is published in English, in both print and online versions.
As the first academic journal published in full color, we invite high resolution color photos/graphics from authors which enrich their submissions. The size of the journal is 8.5"x11". Scholars and researchers—especially of art, art history, cultural studies, and cultural and religious anthropology—will find the journal suitable to publish their work because it allows them to use visual material in a larger format (8.5"x11"), in contrast to most academic journals , which are usually printed in a smaller format.
The credit for bringing out such a unique journal goes to a single man. This man is William Vanderbok, who had the vision of providing a platform for senior as well as junior scholars, and all scholars in between. Of course, the successful launch of a journal would not be possible without the scholarly contributions of many individuals and other individuals behind the scene. We have been fortunate to run articles by such eminent scholars as Alfred Hiltebeitel, Gerald Larson, Harold Gould, and John Huntington.
To experience the flavor of Exemplar, click here.